Airports in Georgia
International Airport of Tbilisi Shota Rustaveli — TAV Airport
In February 2007, it was completed reconstruction of the airport. It was built a new international terminal, parking, improved apron, taxiways and runways, as well as purchased material handling equipment. It was built a railway line to the city center. Sent six daily trains in each direction. Street George W. Bush leads from the airport to the center of Tbilisi.
The airport was built as a modern and functional facility, were used in the construction of high technology. It is designed to provide optimum service flow of passengers and baggage on the aircraft parking, full useful area is 25 000 sq. m. There is the possibility of further expansion of the terminal without stopping the operation. At the airport, there are points of public catering, duty free shops and offices of car rental companies.
tbilisiairport.com
(+995 32) 231 00 07

International Airport Kutaisi
Also known as the Kopitnari airport.
Batumi International Airport
Batumi — the international airport of Batumi (Georgia). Alternative title: Chorokh.
It is located 2 km southwest of Batumi, about 20 km north of Artvin (Turkey).
In addition to local and international flights Airport serves regional flights in the north-eastern Turkey.
Aerodrome Batumi 2 class, capable of receiving aircraft Il-18, Tu-134, Yak-42, Boeing 737, Airbus A319, Airbus A320, as well as helicopters of all types. Maximum take-off weight of the aircraft of 64 tonnes.
The new building of the airport terminal was put into operation May 26, 2007, with an area of ​​3,915 square meters, capacity — 600,000 passengers per year.
Natakhtari airport
A small private airfield, which deals with air taxi. There are helicopters, Cessna, AN-2 and Snipes, which can fly for money. From time to time carried out flights on the ground and very occasionally — to Tusheti. The air is the idea of organizing parachute jumps, but preventing fuel prices.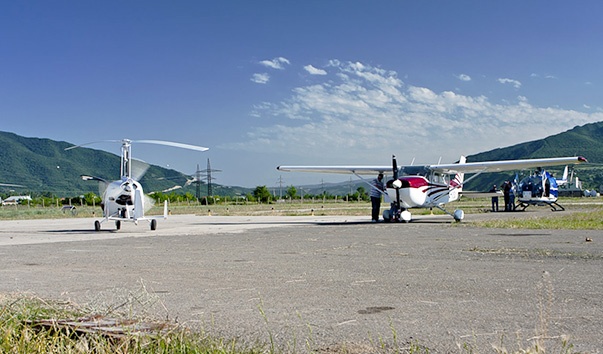 Airport name Queen Tamar
Mestia. Svaneti
Airport name Queen Tamar is situated in the medieval town of Mestia, which is located at 1,400 meters above sea level, 25 km south of Mount Elbrus.
The complex consists of a building for passengers and a runway length of 1120 meters.
The project was implemented by the Georgian construction company, works were about 300 people, was the architect Jurgen Mayer.
The project is aimed at architecture Svan stone defensive towers, located not far from the runway.
Construction was completed in late 2010, the new year began with the airport departures of aircraft.
In winter, the airport can accommodate single-engine airplanes and small passenger, designed for 18 people, and in summer — the aircraft for up to 50 passengers.