Mtskheta
Holy place for all Georgians is the ancient capital of Georgia, Mtskheta. It is not a large town, 20 km from Tbilisi, but in its territory many shrines that Mtskheta-called «second Jerusalem». According to legend, the city was founded Mtsehotos king, son of the king of Kartli, who was the ancestor of all Georgians, at the confluence of two rivers: the Kura and Aragvi. Even after King Vakhtang Gorgasali, he moved the capital of Tbilisi, Mtskheta remained the main religious capital.
One of the first relics of Georgia is monastery Jvari (Cross). It is built on top of the mountain on the site of a pagan temple where St. Nino stuck a cross made of twigs (the beginning of the IV century). In the heart of the monastery is the rise of stone with a cross on it.
They say that this stone dais survived from the time of St. Nino, and is much older than the monastery itself.
From a viewing platform overlooking the Jvari Mtskheta and Svetitskhoveli temple, and you can see how the two colors merge waters of the Kura and Aragvi. It was Djvari Lermontov wrote his poem «The Novice»: «A few years ago, Where, plums, noise, embrace, like two sisters, jet Aragvi and Kura, was a monastery.»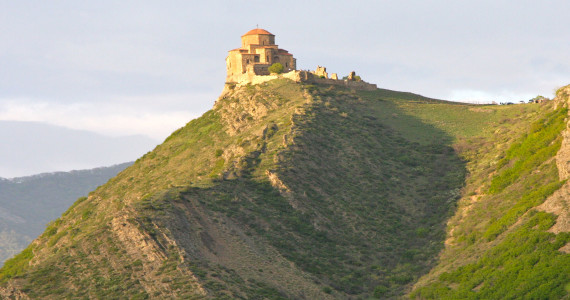 Heart of Mtskheta — it Svetitskhoveli Temple, translated as «pillar of the life-giving.» There is a legend telling the story of the construction of the temple. Simple resident of Mtskheta somewhere got hold of Jesus Heaton left after his crucifixion, and his sister gave Heaton Sithonia. Touching the chiton, Sithonia died. She was buried with Heaton, and grew up on the grave of cedar.
After his baptism, King Mirian decided to build a temple that would stand forever. He built it over the grave of Sithonia and of felled cedar made seven pillars. Six pillars installed, and the seventh was hanging in the air and did not yield to install.
And only thanks to the prayers of St. Nino pole itself, without human intervention, into place and began to stream myrrh, myrrh cured people. Therefore, the temple was named Svetitskhoveli.
Tradition also has it that the architect who built such a magnificent temple, chopped off his right hand, so that he never was able to build anything as majestic.
In the church are buried Georgian kings.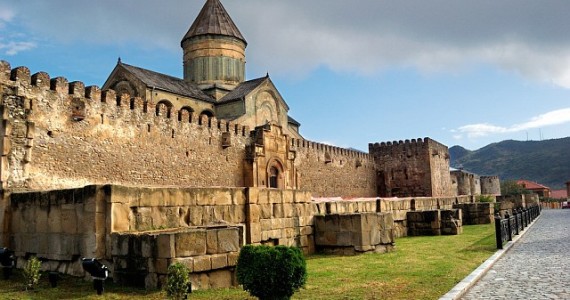 One of the oldest convents of Georgia — Monastery Samtavro. By giving it was built on the site of the blackberry bush (the bush was very similar to a tent, woven from the branches of a blackberry), under which lived St. Nino, when she needed privacy. The monastery buried King Mirian and his wife Nana. The monastery is still in effect: it carried out the service, the nuns live.