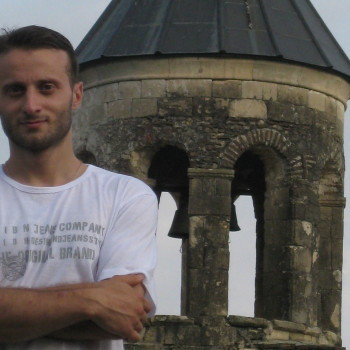 GUIDE in the GEORGIA - TRAVEL IN EUROPEAN GEORGIA
Phone Number
+995 555 59 72 98
Website
http://tieg-travel.ge/
Email Address
alexandrekuparadze@yahoo.com
Biography
My name is Alexandre Kuparadze. I graduated from the Academy of Sciences and Tourism in May 2012 in Kutaisi spend tours in Racha. I am very pleased to introduce our guests with Georgia, especially in Kutaisi, our customs and traditions, our national dishes.
Here are a few facts about the Kutaisi city is located at an altitude of 125-300 meters above sea level. The average temperature of the coldest month — January 5ºC — 0ºC; The average temperature of the hottest month — August + 30ºC — + 32ºC
I love Georgian cuisine, but especially like khachapuri and khinkali. In Georgia, prepare many varieties of khachapuri. There: Imeruli khachapuri Megruli khachapuri Guruli khachapuri and Adzharuli khachapuri. I also love cheese, tkemali and Gomi. I can safely say there Gomi in the national cuisine only Georgians and Ukrainians. Gomi — a hominy.
Come and enjoy the city of Kutaisi and Georgian cuisine!
I offer tours:
Excursion to Kutaisi

Kutaisi — this is one of the oldest cities in the world. According to the myth, the Argonauts arrived in Kutaisi, which used to be called AIU for the Golden Fleece.
In the world there are two Kutaisi. One is in Georgia — the oldest and largest city of Kutaisi, it is also called the second capital of Georgia. Second in Russia, in the Krasnodar region — the town of Kutaisi.

Reserve Sataplia

The reserve has Sataplia karst cave, which has traces of dinosaurs and hives of wild bees. That's why this place is called Sataplia. Georgian «tapli» honey.

Monastery Motsameta

Motsameta Monastery built in honor of St. David and Constantine Mkheidze who refused to convert to Islam during the war with the Arabs. They died under torture, and their bodies were thrown from a cliff into the river. River red with their blood, and then the river is called Tskaltsitela «red water». Then the people in honor of the holy brothers built the monastery, where their relics.

Gelati Monastery

Gelati Monastery was built by the Holy King David the Builder in 1106. King David united Georgia and he engaged in the construction of monasteries, so people called him King David the Builder.

Bagrat Temple

One of the places of interest Kutaisi — Bagrati temple, which is located on a hill Ukimerioni. Now there is a monastery.