Tskhaltubo
Tourist agency «Travel In European Georgia» It offers a shuttle service from / to Airport Tbilisi.
The resort Tskhaltubo (Imereti) is located in western Georgia, in the valley of the river «Tskhaltubo», 7 km away. from the town of Kutaisi, 250 km. Capital of Georgia — Tbilisi and 70 km. from the Black Sea, in the 95-120 m. above sea level.
Balneological resort Tskhaltubo
The glory of the resort created its unique mineral water. They are slaboradonovym (1-2,7nK/liters or 3; 7.5 units. Mahe or 40-100 Bq.) Chloride-bicarbonate-sulphate, sodium-magnesium-calcium waters. Natural water temperature (+ 33-35OS) allows their use without preheating.
In Tskhaltubo is used peculiar technique holidays baths (inflow and flow), ie, Fresh water is constantly supplied into the tub and the water is from the beginning to the end of the procedure is made uniform.
The resort is revealed another natural curative factor — caves, microclimate which (in particular micro-climate «White Cave») has been successfully used to treat hypertension, asthma and neurosis (currently works on improvement of the cave).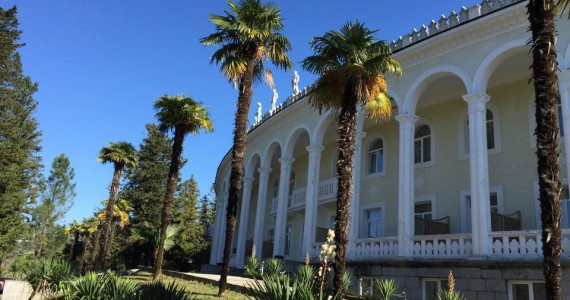 Climate
On the climate Tskhaltubo is strongly influenced by its geographical location in the basin of the Colchis plain at the foot of the branches of the Greater Caucasus mountain range, which is connected to the South Georgian Plateau Surami (Likhi) range, where it starts to the top of the Colchis Lowland, which occupies the lower basin of the river Rioni, and merges the east coast of the Black Sea. Thus, Tskhaltubo it surrounded by mountains and hills and open to the sea.
The presence of natural barriers to the north and south Tshaltubo protects against the ingress of cold air masses, and determine the main ways of their penetration from the west and east.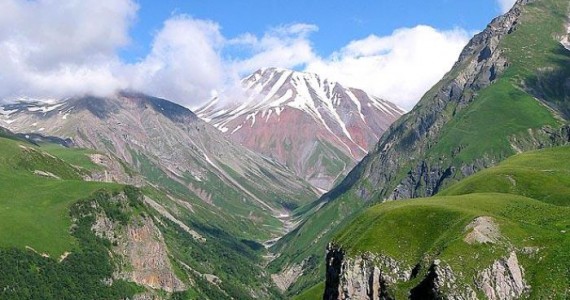 Physical and chemical composition of water Tskhaltubo mineral water
Tskhaltubo mineral water is characterized in that all the ingredients are in it below the lower limit of the permissible norms. Chemical composition Tskhaltubo sources is stable and does not change with time. This is confirmed by comparing the chemical analysis done over the last 70-80 years.
In Tskhaltubo mineral sources found biologically active microelements: iodine, bromine, manganese, lithium, boron, zinc, strontium, copper, which play an important role in the living organism.
A significant role in Tskhaltubo sources played gases: nitrogen, radon, helium, argon. Tskhaltubo waters are slaboradonovym (1-2,7nK/liters or 3; 7.5 units. Mahe or 40-100 Bq).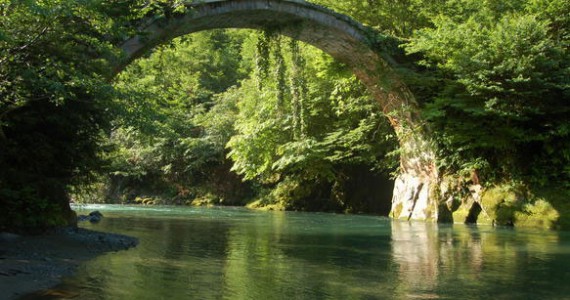 Medical procedures are provided in the framework of complete treatment:
• Consultations of doctor
• Spa mineral water
• Horizontal spinal traction in the mineral water
• Hydromassage in mineral water
• Exercising in the pool
• Exercising in the hall
• Medical classic massage
• Gynecologic irrigation
• Hydro-vibration massage
• Circular shower
• Ascending shower
• Shower «Sharko»
• Physiotherapy (various)
• Physiotherapy in mineral water
• Applications therapeutic mud (peloidotherapy)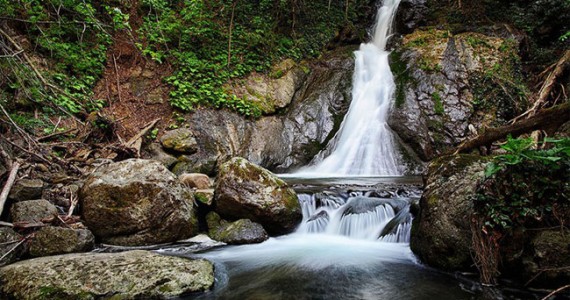 The transfer is from Tbilisi (distance — 250 km). The transfer fee Tbilisi — Tskhaltubo:
• 2-3 passengers — 300$
• 4-8 passengers — 400$
• 8-17 passengers — 409$
• 18-28 passengers — 546$
• 29-50 passengers — 601$