Duration: 1-7 days
Location: Georgia
Available Seat: from 4 to 6
Price: Price 50€ per day per 1 person
Booking tour
The group can be collected by yourself or with the help of a travel agency.
Our Travel Agency offers you rafting tour on the river Rioni in regions of Racha-Lechkhumi and Imereti. We meet out tourists at Tbilisi and Kutaisi international Airports.
Riv. Rioni. Racha-Lechkhumi region
Tour length: from 1 to 7 days
The opening of the season is planned from 25 of May
The cost of the tour is 50 € per day per person

• Starting traveling from Tbilisi international Airport to western Georgia through Transcaucasia International main line to city Kutaisi. We stop by 25km from Tbilisi at historical city Mtskheta , where you have chance to see a main cultural left of IV-VI century – orthodox monastery of Cross, which is in the list of UNESCO world heritages and from this place was spread in Caucasian region culture of orthodox Christianity. Monastery of Cross was the often place for visiting of the famous Russian poet Mikhail Lermontov (XIX), which devoted many poetry to this cultural heritage. Sometimes he was called as "the poet of the Caucasus".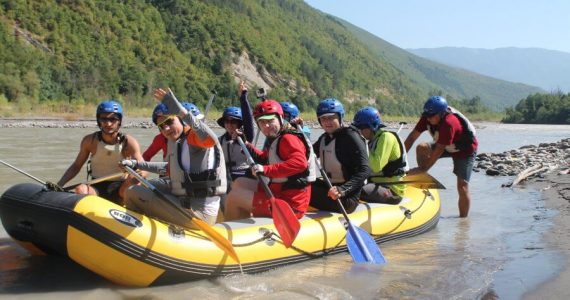 • After visiting Mtskheta we continue our trip to city Kutaisi through beautiful Rikoti pass – the length to destination point is 200km. In Kutaisi our tourists will stay at Ukrainian guesthouse "Laskavo Prosimo". On the river Rioni, length of Rafting line is 120 km and it is divided into 3rd, 4th, 5th and 6th categories of difficulty and from 25km to 30 km lines. For going through whole 120km line needs 7 days. Rafting can be started from balneotherapeutic health resort of upper Racha region – "Utsera", which is located 1042 meters from Sea Level and it is north of Kutaisi. In Utsera tourists can taste therapeutic springs. Rafting line at Utsera is 15km and 6th level of difficulty – this line can only use experienced and professional rafting-lovers. For amateurs we offer 1st category rafting line.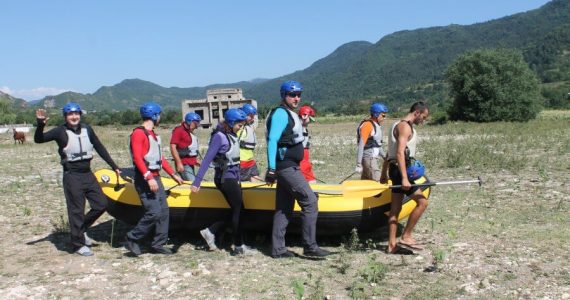 Tour includes:
• Transfers from and to above mentioned airports by Opel, Mercedes Vito and mini-busses.
• Staying at Guesthouse "Laskavo Prosimo" with breakfast.
• Equipment for rafting: boat "Gumotex" for 6 persons, helmets, waistcoats and oars.
• Transporting by mini-buses.
• Tours will be held by experienced rafting instructors and touroperator IRAKLI.GET.
Doesn't include:
• Air tickets.
• Insurance.
! The price for group will be reduced if tourists will arrive at David the Builder Kutaisi International Airport.
! P.S. It's possible rafting tour with camping at Racha region beautiful Lake Shari area. Sleeping bags will be provided by travel agency. In this case daily costs will be reduced – as guesthouse cots will be subtracted.





Book a Rafting in Kutaisi