Georgian traditional cuisine
Georgian traditional cuisine, one of the richest in the world. She is known not only in the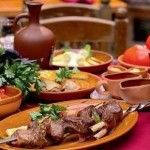 Georgia and beyond.
According to legend, after one of the hearty feasts God decided to go through a very high Caucasus mountains. With the ascent of God accidentally dropped the bag of bread and meat. Place, which fell on the products named by Georgia, a country to which the national kitchen-is not just a meal, it's part of the Georgian cultural heritage.
It involved four elements: bread (food in particular), wine, toast and music. Earlier traditions of Georgian cuisine in all regions have been quite different, but a lot has changed over the centuries and now the difference is insignificant.
In the east, mainly bake bread from wheat (shoti and pitas), but in the West prefer tortillas from corn flour «Mchadi» or «Gomi» (porridge made of corn flour). The difference was not only bread but also cheese. In the West, it was popular cheeses from cow moloka- Imereti cheese and sulguni, and in the east they were made of goat moloka- Goody. But other meals were distributed throughout Georgia,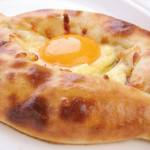 famous lyubiani (beans baked in pastry), khachapuri (cheese baked in pastry), khinkali (something similar to ravioli, but larger in size, and are prepared only with meat), mtsvadi (shashlik lamb, which can be cooked in many ways), chikhirtma (chicken soup). These, and other, extremely tasty dishes are prepared in Georgia now.
Main Georgian zastole- is the head of the table «Master of ceremonies». This is a very eloquent and witty man. There is an ancient custom whereby the host, the guests, he has to be the master of ceremonies or toastmaster choose from among the invitees. Keeping a holiday — this is a very serious matter and a difficult: Toastmasters is obliged to monitor the progress of the feast following the next pronounced toasts and their contents. The sequence has a pattern of pronunciation toast. The first to speak obligatory toast toast greeting, wish prosperity, the next toast — greetings celebrated event. To the main toasts are those that are pronounced to the health of parents and for peace in the family. The last toast toastmaster for his thanks for a nice day of the feast, and for the owners, they are grateful for the hospitality and wish you happiness, health.
Georgian feast is always accompanied by national dances and songs.